Delaware Farm Bureau Foundation Presents: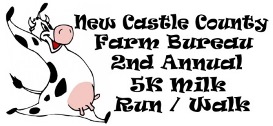 Saturday, May 31st at 8am at Appoquinimink High School in Middletown!
All net proceeds go to the Ministry of Caring to purchase milk for children and adults in need.
The Ministry of Caring, serves nutritious meals at no cost to needy and hungry men, women and children. in 2012, 24,000 meals were served to children, starting with a glass of milk. The New Castle County Farm Bureau wants to ensure that each child continues to receive that valuable nutrition.
Registration is at 8am; T-Shirts and refreshments included.
Race starts at 9am!
Visit Races2Run.com for more information or to register.
To make a one-time charitable contribution to the Delaware Farm Bureau Foundation for this event, please send checks or money orders to: Delaware Farm Bureau Foundation, 6457 S. Dupont Highway., Camden, DE 19934 or call Laura Simpson at 302-697-3183
More Information